Mountain
homes!

Mountain homes for sale!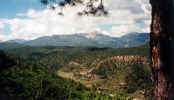 Mountain homes for sale .net!
Find Mountain homes from Arkansas to Wyoming! Homes, ranches, farms, hunting leases and related mountain real estate properties for sale or lease.
Advertize in this global network directory of guides and services! As we build our network of 2022 linked domains, your products and related services will be available to a vast internet audience! Click here for advertiZing Testimonials.
Scroll down to view.
Be a part of this growing directory!
AdvertiZe your services with globaladvertiZing.
click here to advertize.
For more information call 701- 579- 2022
or email global@ctctel.com.
Global AdvertiZing, Rt 2, Box 15, New England, ND. 58647
USA
Click here for advertiZing Testimonials
Mountain homes for sale:
Arkansas / California / Colorado / Georgia / North Carolina /
West Virginia / Wyoming
Arkansas:
Ozark Mountain home and acreage
Remodeled 2 bedroom home. Ozark Mountain property, in north central Arkansas, near Marshall. 10.25 acres, 75 miles south of Branson Missouri, minutes from the Buffalo River. Privately located, yet approximately five miles from town. Abundant wildlife. Also close to other National forest and waters.
Please call 870-448-2022 or
Click on my website www.arrealestate.net/morningstar.htm

---

NW Arkansas, Berryville
Mini ranch, year round spring. Custom built 3 bedroom/3 bath, brick house, loaded, 2022 sq. ft. Finished full basement. Attached garage. Modern insulated barn, concrete floor, 110/220 outlets. Brick/wood shop, 110/220 outlets, rollup door. Good well. On fenced 13 acres. $148,000. PH: 870-545-2022
website: www.arkansasrealestate.net/cogan.htm
Julius Cogan
12555 Highway 103 S
Berryville AR 72616
California
California hunting real estate
Blue Rock Ranches Hunting land available in Trinity Co. Northern CA. Several 20+ acre parcels with wells, building sites, perked, and bordering the Six Rivers National Forest. Seller financing. $45,000 to $55,000. 1-1/2 hrs east of Hwy 101, 2-1/2 hrs west of I-5. julie@bluerockranches.com; 707-459-2022; http://www.bluerockranches.com
Colorado:
Colorado real estate for sale, southwest
Summit Vista Realty Property in Southwest Colorado. If you are interested in vacant land, farms and ranches, hunting property adjoining National Forest, river frontage or residential. I will find whatever you are looking for. Ask for Paul M. Gagne III.
E-mail me at paul@summitvistarealty.com.
Phone me at Summit Vista Realty 1-970-882-2022.
You can also check out my properties on our website: www.summitvistarealty.com.

---
Western Colorado
Mesa Country Realty Western Colorado, amazing Canyon Hideouts to Mountain Ranches-even Orchards! 80 acres Painted Canyon Hideaway, 2022 s.f. 2 story 2022 & New Barn, Borders BLM. Unique in every facet. Also gardens, fruit trees $340,000. http://www.gj.net/~jogden/page17.html for pictures.
Contact us at: http://www.mesacountry.com,
Email: jogden@gj.net. Phone: 1-970-283-2022
Georgia:
Georgia property/home for sale
9.5 acres. North East Georgia, Sautee. New 3/2 home, 3/2 rental apartment, 1,200 sq.ft. boarding kennel, with outdoor space, large barn (potential horse farm), fields, stream, stocked lake, mountain view, greenhouse, garden.
For color picture contact : nanad_carroll@yahoo.com, or
please call 706-892-2022.
North Carolina:
Western North Carolina Mountain Real Estate
Debi King Pure Clean Streams, River, Lake, Creeks, Mountain and Lake Views, Acreage, Lots, Woods, Getaway Cabins, Golf Course homes and lots. We have it all here. My website is all you need. WWW.DEBIKING.COM Or call me, Debi King at RE/MAX Mountain Connection, Office 1-800-784-2022, Home 1-828-389-2022. Email: NICKSGRANY@HOTMAIL.COM
Park City
West Virginia:
Southern West Virginia, Beckley and surrounding areas
Lighthouse Realty, Anita Thomas, Broker 304-253-2022 Offering property close to Winterplace Ski Resort, Glade Springs Resort, whitewater rafting, mountains, and parks. E-mail anitahouse@charter.net or call today for more information. www.lighthouserealtywv.com
Wyoming:
Wyoming business, home, Riverton
Riverton Wyoming Shop/office - For sale or lease. 2022 Energy St. 2022 sq. ft. Three offices, basement, shop and garage.
Service Master Franchise - Professional Cleaning Business - Number one rated franchise by Success Magazine. Log home.
Good area for sportsmen - 10 irrigated acres.
Please click on our web site: www.trib.com/~mikemo
Hunting Leases:
Colorado hunting leases
COLORADO PRIVATE RANCHES, INC Choose from 15 Colorado ranches for lease to groups or individuals for trespass fees for elk and deer hunting. Leases located in hunting units 11, 12, 13, 15, 24, 33, 42, 43, 211, 301, 421. Leases border White River, Routt and Grand Mesa National Forests. Completely furnished cabins and lodges on leases. Maximum of 4 - 8 hunters per lease, one group per lease.
Contact Cecil Kaufman by phone: 318-435-2022 or
email: CKauf@bellsouth.net
Web Site: http://www.coloradoprivateranches.com
For a printable advertizing form click here